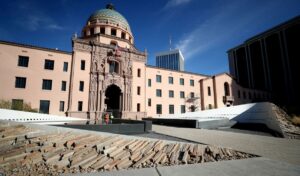 Historic Pima County Courthouse, Gem & Mineral Museum, Visit Tucson Presentation, Southern AZ Visitor & Heritage Center, followed by Rio Nuevo Update at DoubleTree Hotel.
Details
7:45 AM – Bagels/Coffee in Presidio Park (115 N Church Ave)
After you park in Presidio Garage, come up the elevator and enter into courtyard.
We will meet there before entering the museum.
8:00 AM – January 8th Memorial
Scan QR Code and visit January 8th Memorial
www.visitsouthernarizona.com/january-8-memorial
8:30 AM – Tour Alfie Norville UA Gem & Mineral Museum
10:00 AM – Turquoise Room (2nd Floor)
Presentation by Visit Tucson on economic impact of tourism during COVID
11:00 AM – Visit John Dillinger Courtroom
11:20 AM – Visit Southern Arizona Heritage & Visitor Center
11:50 AM – Drive to the TCC and park in garage (southeast side 280 S. Church Ave)
Parking is free, Walk to Doubletree Hotel for presentation
12:00 PM – Presentation by Rio Nuevo – Mark Irvin, Rio Nuevo Board Member
Lunch to follow on 2nd floor of Doubletree Hotel.
LUNCH LOCATION STILL TENTATIVE
Masks
Masks are required in the Courthouse, and possibly other indoor spaces
Bring your own.
Attire
New blue long sleeve Cabs shirt and khaki slacks.
If you don't have the new shirt, a Cabs polo.
Bolo tie and name badge
No jacket required unless you chill easily.
Comfortable shoes are strongly advised
Cost
There will be a $25 fee for the Museum – you will be billed.
Business Info